Dear Sue and Staff at The Hope Foundation,
I am writing to express our deepest thanks and gratitude for your king donation of refurbished lap tops. These will be of tremendous help to our families who did nat have the funds to purchase a lap top and will allow them to download the data from their child's blood glucose meters and or insulin pumps.
This is important as it allows the team to review their data between clinic appointments and offer advice on insulin adjustment in a timely manner and will reduce the need for some families to have to come to hospital more often.
The benefit of virtual adjustment of insulin, in a timely manner, mean that any risk of a child developing life-long complications of diabetes are reduced as we can optimise their control and ensure they remain as healthy as possible for as long as possible. In addition it reduces the financial burden on the parents as visits to the hospital can not only be costly due to parking charges but also require working parents to take time out of work.
We have already distributed 10 of the lap tops and have identified families for the remainder and the response following your kind donation has been overwhelming with 6 of the farnilies downloading within 24 hours of receiving a lap top.
Can you please thank your supporters too (on our behalf) as I am sure they too would be happy to know that their support is very much appreciated.
Kind regards
Alison Murray
On behalf of the paediatric diabetes team
South Tees Hospitals.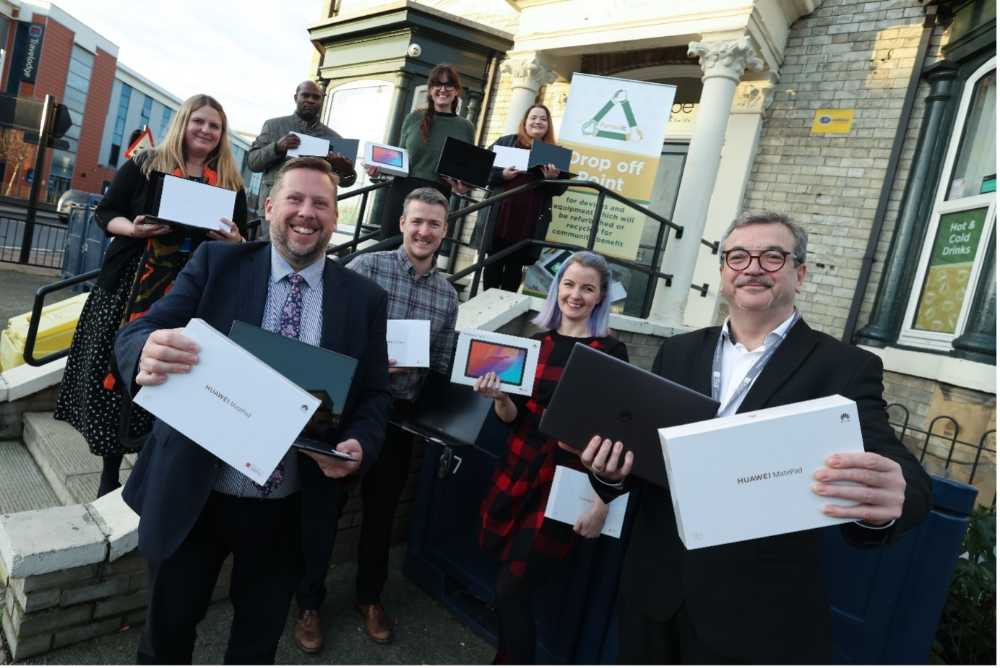 Huawei
Huawei very generously donated over 100 laptops and tablets to The Hope Foundation and Furbdit as part of their drive to close the digital inclusion gap across the UK.
The Hope Foundation CEO Sue Kearney said "Here in the Tees Valley access to devices, connectivity and the appropriate digital skills is a real issue for local people. This support from Huawei enables us to get laptops and tablets to those people that need them most.
"By distributing the devices, through our South Tees Digital partners, we are sure that the Huawei donations will make a real difference to local people's lives. Other businesses and individuals can follow Huawei's lead to make a difference by donating unwanted devices through our recycling platform www.furbdit.org.uk."
Huawei Global Vice-President Victor Zhang added: "If the UK is to meet its ambitions to level up the country, access to digital technology is going to be key not to mention acquiring basic technology skills.
"As part of our long-standing commitment to the UK, we are proud to play our part in closing the digital inclusion gap and feel a responsibility as a global technology leader to help charities like The Hope Foundation equip people and communities with the skills and equipment needed to make their way in the digital world."
The Devices are being used by many vulnerable and isolated local residents to help them look for jobs, access health care and wellbeing support, find and join in with community groups, education, and connecting to family and friends near and far.
Donating old or no longer needed IT equipment to Furbdit helps support many local charities and will make a real difference to people's lives.
Step Forward Tees Valley
"Thank you once again for the laptops. They are absolutely fantastic and will really help our participants to start to access their mental health concern workers zoom sessions, craft and social groups to reduce their isolation, online functional skill sessions, zoom sessions with our citizen's advice bureau representative for their debt problems, as well as boosting their confidence in learning to start to look for work! Invaluable!"
Louise from Step Forward Tees Valley